Mission:
Empowering speech-language pathology and audiology professionals through advocacy, education, and networking across South Dakota.
Vision:
Ensuring that all people achieve and maintain the highest quality of life through the prevention and identification of, and intervention for speech, language, hearing, swallowing, and related disorders.
Core Values:
Ethics                                                  Service
Compassion                                       Inclusivity
Diversity                                              Mentorship
Excellence                                           Learning
Collaboration                                      Fiscal Responsibility
Who are we?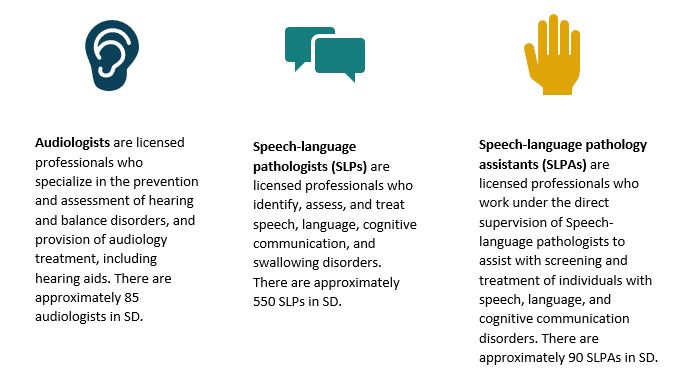 Where will you find us?
What is the need for audiology and speech-language pathology services in SD?
The University of South Dakota is the only training program that prepares individuals for licensure as an audiologist or speech-language pathologist in SD. According to the 2018 South Dakota Health Care Workforce Needs Assessment, SD will need an average of 26 speech-language pathologists/year between 2016 and 2026. Information about the age and geographic distribution of the SLP workforce in SD was not available. Information about demand for audiology professionals was not available due to small sample size.
How do I find a qualified audiologist or speech-language pathologist?
The SD Board of Hearing Aid Dispensers and Audiologists and the SD Board of Examiners for Speech-Language Pathology maintain lists of professionals who are licensed in SD. The American Speech-Language-Hearing Association (ASHA) ProFind Service can be used to find ASHA-Certified professionals in SD.